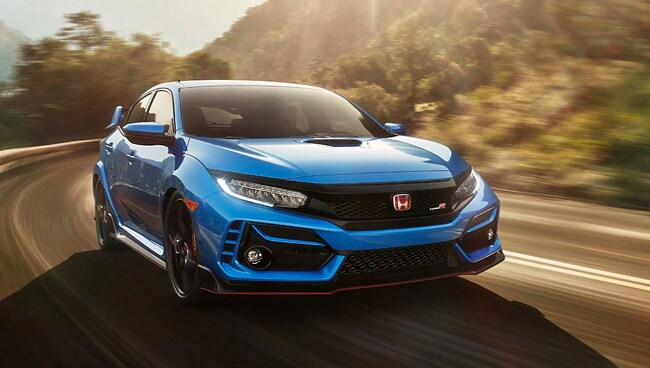 On the track, the 2020 Honda Civic Type R is a star. For your everyday commute, it is the envy of onlookers from all angles. The latest Civic Type R proves there's no substitute for ultimate power and superior handling. After much anticipation, the 2020 Honda Civic Type R in its new Boost Blue exterior made its first Canadian debut at the Canadian International Auto Show in Toronto on Feb 14th, 2020. The 2020 Civic Type R brings several changes and improvements to Type R's winning formula.
What's New for the 2020 Civic Type R?
For 2020, Honda has altered the Civic Type R recipe for the better. At the top of the list are numerous improvements to its world-beating driving dynamics. New two-piece brake rotors and brake pads are designed to reduce fade and improve high-speed braking efficiency, while suspension revisions include updated dampers for improved ride comfort, stiffer rear bushings for better grip, and adjustments to the front suspension and steering for improved handling. Additionally, the grille is redesigned to allow better engine cooling under high demand. And, let's not forget to mention the new Boost Blue paint color that sets the 2020 Honda Civic Type R apart from any other vehicle on the road.
The 2020 Civic Type R interior features added refinement that includes a new Alcantara-wrapped steering wheel, and a new shifter with a redesigned knob and shorter shift throws. Every 2020 Civic Type R is equipped with the Honda Sensing safety and driver-assistive technologies, making it standard on all Civic models and trims for the 2020 Type R.
The 2020 Civic Type R engine generates power from a race-bred 2.0-litre direct-injected, and turbocharged 4-cylinder engine, with VTEC valvetrain, delivering an excitement geared 306 HP. As before, drivers can choose between three driving modes, Comfort, Sport and +R. New for 2020 is Active Sound Control, which modifies interior sound in concert with the chosen drive mode. The Type R's selectable drive modes and sophisticated design make it both a thrilling companion on a country road or a racetrack.
Want More Information on The 2020 Civic Type R?
For additional information about the 2020 Civic Type R, including pricing, financing, trims and specifications, contact Castle Honda. The 2020 Civic Type R will be available for sale in Etobicoke this winter. Until then, browse our inventory of new and pre-owned Honda's to find the Honda made for you.