Your Vehicle Identification Number (VIN) is etched onto the major parts of your vehicle. 
Silent Sentinel provides coverage in the event that your vehicle is a total loss due to theft.
Is your vehicle at risk?

My vehicle is new
My vehicle is from an upscale category, a sport utility or a van
I live in a Metropolitan area or in its suburbs


If you fit one of these descriptions, your vehicle is at a high risk of theft.
The Theft Problem*:
2 million vehicles are stolen each year in North America. More than 140,000 of these vehicles are stolen in Canada
Vehicle theft accounts for 13.5% of all property crime in Canada
In the past decade, Canada has become the car theft capital of North America with about 400 cars stolen every day
$540 million was paid by Canadian insurance companies for settlements due to theft in 2007
*Source: Statistics Canada and Insurance Bureau of Canada
Sentinel Warranty
We warrant...
that your Silent Sentinel protected car, truck, recreational vehicle and travel trailer will not be stolen. If it is, it will be returned before it is damaged to the extent it is a total loss.
Or we will pay...
the actual cash value of your vehicle up to a $5,000 replacement allowance
up to $1,000 if the vehicle is stolen and recovered, but not damaged to the extent that it is a total loss
a car rental allowance of up to $600
a standard traveler allowance of up to $400 for meals and accommodation, if theft occurs 160 km or more from home
airfare reimbursement up to $600 if theft occurs 800 km or more from home


Vehicle Registration: Your vehicle's description and owner's data is registered through the computerized database which can be accessed immediately by all law enforcement agencies in the event of the theft.
Law Enforcement Cooperation: Silent Sentinel will continue to work with law enforcement agencies to gain their cooperation in supporting VIN etching and promoting awareness within our society that stealing vehicles with VIN etching will land thieves in jail
Transfer: Silent Sentinel will transfer the warrant to a future purchaser of your vehicle for a small handling fee, if the new owner applies for the transfer.
Free Protection Replacement: Silent Sentinel assure you that the VIN etching will be re-applied free of charge when you replace any previously etched vehicle part of any reason, on your registered vehicle.
Length of Coverage: Depending on the current age of your vehicle, Silent Sentinel can provide up to 5 years of protection.
Savings: Please check with your insurer as they may be in a position to reduce premiums since your vehicle is more than adequately protected against theft.
Sentinel Efficiency
Protection with convenience
Silent Sentinel can also be financed with your new vehicle contract.
Simply Efficient
Silent Sentinel deters vehicle thieves before they enter your vehicle
Driver and passenger side window decals notify potential thieves that your vehicle is protected
Silent Sentinel can't be altered or bypassed without replacing major parts of your vehicle, which is too costly and risky for thieves 
Silent Sentinel works 24 hours a day, 365 days a year, even with valet parking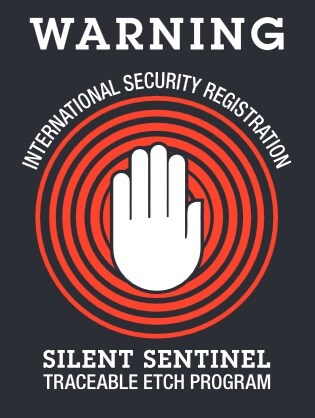 **Conditions
Silent Sentinel will not be obligated to make any payments pursuant to the warranty unless, and until the purchaser furnishes to the following:
1. A copy of the police report covering the theft of the vehicle

2. Proof that an insurance company completes an insurance claim settlement for total loss at the actual cash value of the vehicle was paid to the purchaser

3. A copy of the vehicle title (or lease agreement) proving ownership and identifying the finance source (lien holder)

4. Rental car, lodging, food and airfare receipts when the theft occurs a sufficient distance from the purchaser's home to qualify for such reimbursements
No payments will be made if the purchaser has intentionally concealed or misrepresented any material facts or circumstances relating to the disappearance of the vehicle. No modification of the warrant is authorized without the express written consent of Silent Sentinel. Payments will be made out to the purchaser and selling dealer.
Please refer to your Warranty Certificate for complete details and limitations.